Friends@First is the new outreach ministry of @firstchurchmesa! We are a committed group who are working to serve our street friends and neighbors. Friends@First currently serves the community with the cool down room, blessing bags, and clothing closets for adults and children. Future plans are in the works for a food pantry and an updated shower facility. Follow @FriendsAtFirst on Instagram and Facebook to join us on our journey to better serve the downtown mesa community!
Want to support Friends@First? Click here to donate online. Make sure to include "Friends@First" in the memo field. 
Clothing Donations Needed!
Our adult and children's clothing closets need new or gently used clothing donations for the winter. The items below are what we are currently in need of. Thank you so much for your donations and continued support of these ministries! You are making a huge difference in many people's lives.
Adult Clothing Closet:
Men's pants and jeans – sizes 30-32-34
Men's boxer brief and boxer underwear – size Medium to Large
Men's tennis shoes – sizes 9½ to 12+ preferably gray, black, and white
Men's belts – large sizes
Jackets/Hoodies – Large, X-Large, and XX-Large
We are not in need of any women's clothing at this time.
Children's Clothing Closet:
We are currently looking for someone who would be interested in volunteering as the Coordinator for the Children's Clothing Closet. If you are interested please contact Jess in the church office at Secretary@ FirstChurchofMesa.com
Our Blessing Bag supplies are in constant demand. Our church has blessed many hungry people who have reached out to us for help. Hygiene kits and towels are also in high demand. 
Please drop off donations, Monday through Thursday at 1:00pm until 3:00pm in front of the Outreach Center.  If you would prefer to give a monetary donation, click here and enter "Blessing Bag" in the memo space.
Pudding Cups
Fruit Cups
Jell-O Cups
Crackers
Protein Bars
Protein (Tuna, Chicken, SpaghettiOs, Etc.)
Women Tampons (Large and X-Large)
Thank you for your generosity toward this important outreach ministry!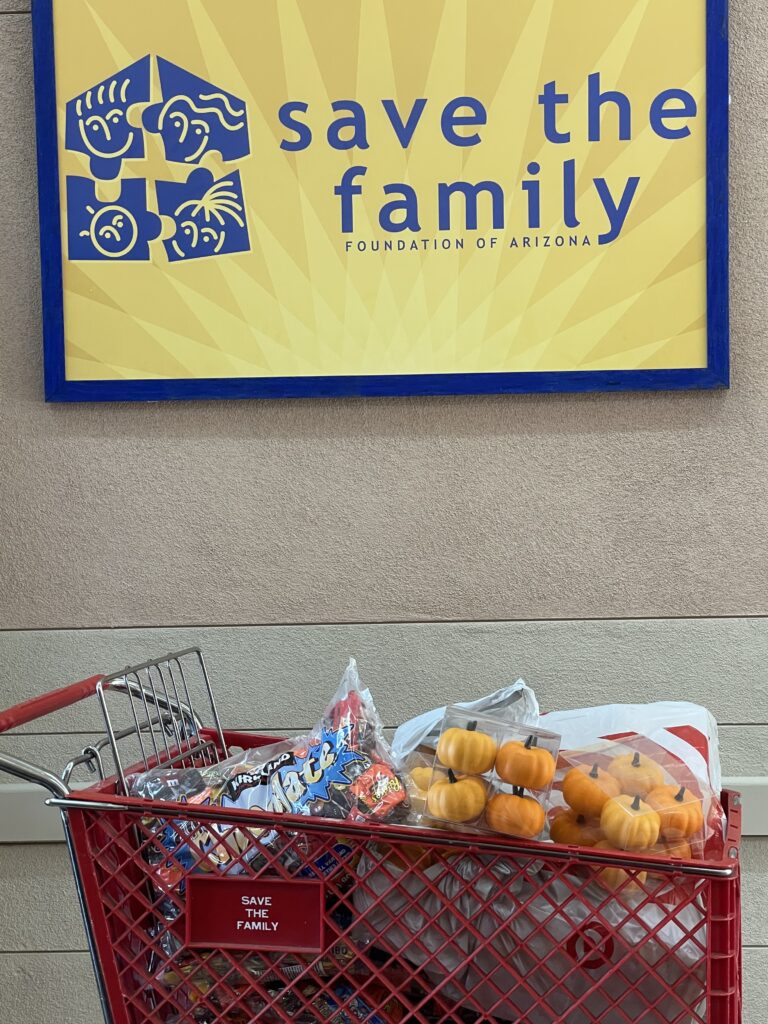 Thanks to the Missions Committee, low-income families at Save The Family will have a sweet and spooky Halloween this year!
We have donated candy and pumpkins for their upcoming Halloween festival. This will ensure that all children have a chance to trick-or-treat, enjoy the festivities, and express their creativity!
Who is Save The Family? From their website: "Established in 1988, Save the Family Foundation of Arizona is a leading provider of housing, case management and supportive services to more than 650 homeless and impoverished families annually throughout Maricopa County. We work to equip families to overcome underlying issues that lead to homelessness – ensuring stable homes, safe children and strong families because of our efforts. Join us today to help end family homelessness – volunteer, donate or advocate on behalf of those we serve. We appreciate your interest in Save the Family!"
To learn more about how you can support Save The Family and the families they serve, please visit savethefamily.org