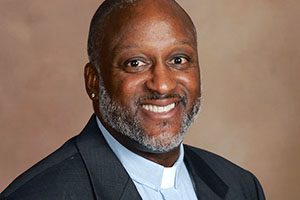 Bishop Robert T. Hoshibata has appointed The Rev. Khalif Akil Smith, Sr. as senior pastor of FUMC Mesa, starting July 1, 2019.
Khalif was born on March 8th in New York, New York to Diane Jackson and Jim Smith. He was raised in New York City from birth until age 18 as the child of a United Methodist pastor, where he served numerous positions in the Church from acolyte to Sunday school teacher. As a young adult he worked at United Methodist Church camps as a counselor, served community youth as a mentor, served as a youth delegate at New York Annual Conference and worked with homeless shelters and senior living facilities throughout the New York metropolitan area. He moved to Georgia in 1991 to pursue a college education.
Khalif attended DeVry University where he completed an undergraduate degree, Bachelor of Science (B.S.) in Telecommunications Management. He returned to DeVry University to complete another undergraduate B.S. in Information Technology, and went on to complete a M.I.T (Master of Information Technology) degree at American Intercontinental University.
Khalif decided to answer God's calling on his life in 2006 after serving Grayson United Methodist Church as a Sunday school teacher for adults and Senior High youth. He is a graduate of Candler School of Theology at Emory University having completed a Master of Divinity degree in May of 2011.
Khalif has served as the lead pastor of Mt. Zion United Methodist Church, as Associate Pastor of Dacula United Methodist Church, and as senior pastor of Clarkston United Methodist Church, in the North GA Conference. He has served as the senior pastor of Trinity United Methodist Church in Las Vegas, Nevada for the last 5 years. Khalif has a strong sense of purpose and passion for spreading the Gospel, as well as a deep dedication to God, family and community. He is excited to serve at First Mesa and looks forward to meeting our congregation and continuing God's work here.
Khalif's family consists of his wife Nikki and his children Cassie, Khalif II, Asti, and Zoë, who are all very supportive and active in his ministry.