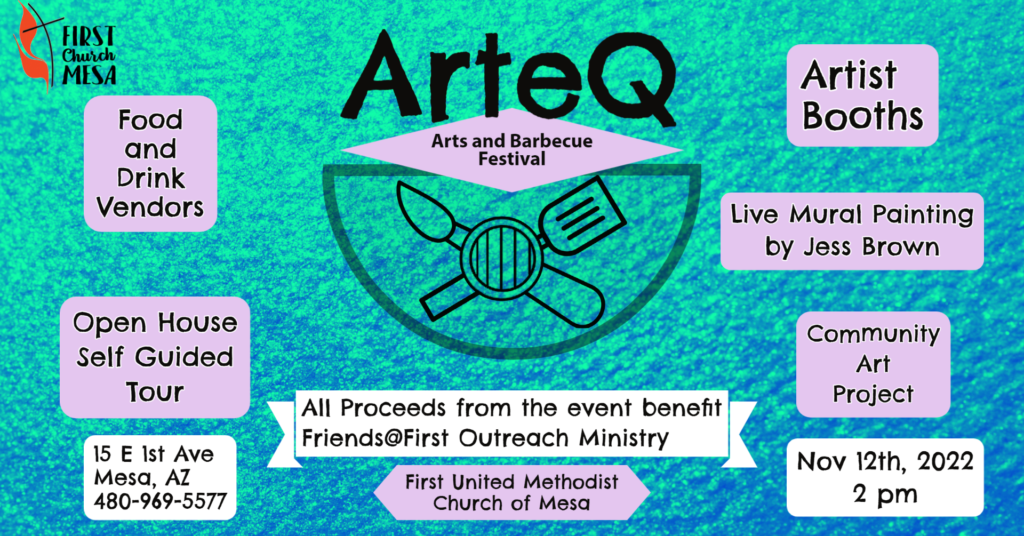 ArteQ (rhymes with Barbecue) is an Arts and Barbecue Festival fundraiser that will benefit the Friends@First Outreach Ministry. This art and food festival is a brand new idea that draws from all the things that First Church of Mesa values the most: community engagement, involvement with the downtown arts community, supporting local ministry, and relationship building with local restaurants and businesses. ArteQ will headline a Live Mural Painting by Jess Brown, a self guided Open House Tour, a community art project, artist booths and food vendors.
Open Call For Artists, Crafters and Food Vendors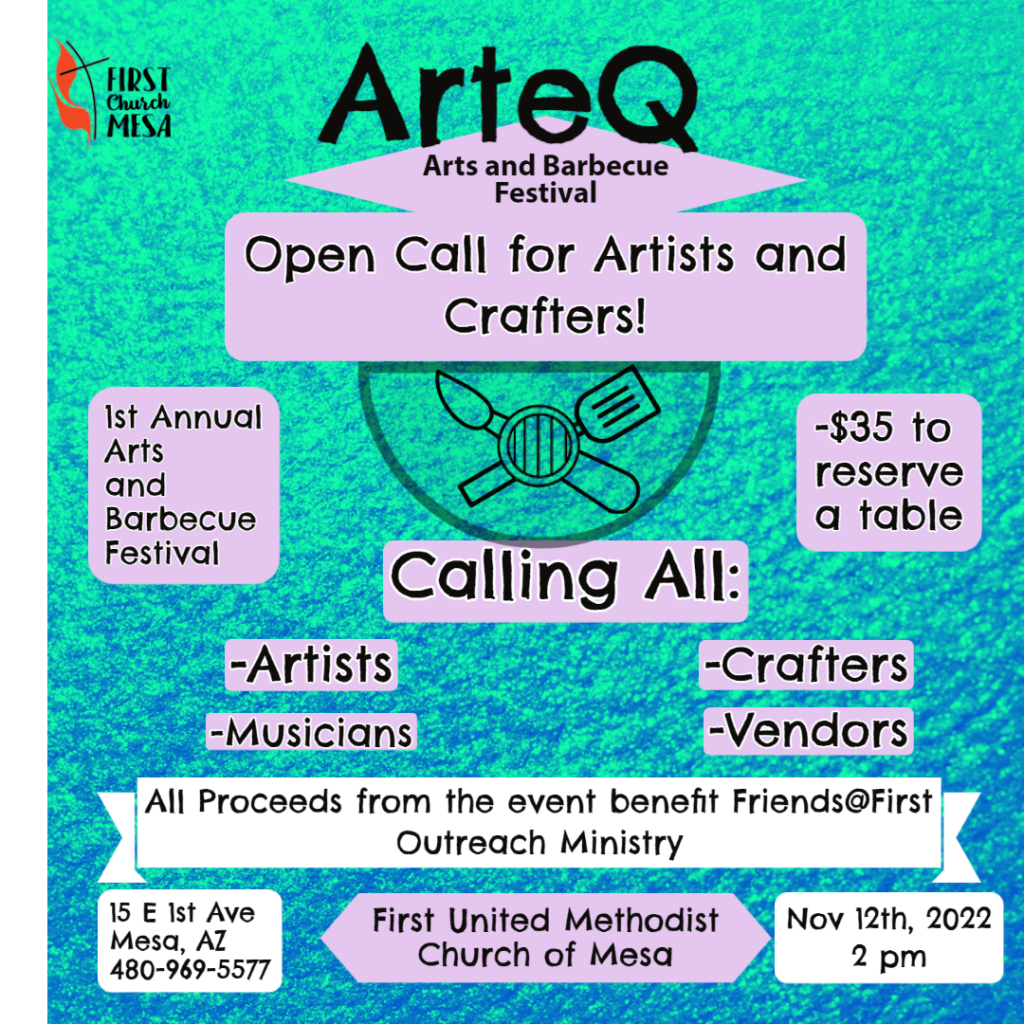 We are now accepting applications for ArteQ 2022! ArteQ is an Arts and Barbecue festival fundraiser that benefits Friends@First Outreach ministry. This event will be held in the parking lot at First United Methodist Church of Mesa on November 12th, 2022 from 2 – 6 pm. We'll be having artist booths, food/drink vendors, a live mural painting, a community art project and an Open House tour of the church. This is a great opportunity for community engagement and relationship building within the Downtown Mesa Community as well as an opportunity to raise money for the Friends@First Outreach Ministry.
We are accepting applications for vendors who wish to sell handmade arts or crafts including paintings, drawings, art prints, sculptures, woodworking, ceramics etc. We are also accepting applications for food vendors.
A "Booth" includes a table, two chairs and two 9×18 parking spaces. Power access will not be provided. Generators for food vendors will require approval. Use of Battery packs is allowed.
You are responsible for your own merchandise. First United Methodist Church of Mesa will not be held liable for any stolen or broken merchandise. The vendor and First UMC of Mesa agree to indemnify, save and hold harmless on another from any lien, fee, claim, suit, or demand arising from the use of space for the event.
No vendor will be permitted to bring any hazardous materials onto the campus. Hazardous materials consist of any hazardous or toxic substance, material or waste, including but not limited to, those substances, materials and wastes listed in the United States Department of Transportation Hazardous Materials Table (49 CFR 172.101) or by the U.S Environmental Protection Agency (40 CFR Part 302) and other such substances that are regulated under applicable local, state or federal law.
Submission of this form acknowledges these provisions and guidelines. Once your registration is received and accepted you will be sent an email confirmation and a booth space number.